最近很多传闻称 2016 年将有英特尔处理器版本的 Surface Phone 上市。微软正在开发与 x86 应用处理器兼容的 Continuum 特性。最新的关于微软的消息称原定于 2016 年发布的旧计划已经取消,但 Panas 将在 2016 年秋季有新计划推出。英特尔将在 2016 年中发布 x3 LTE 中端解决方案和高端的 Goldmont 内核,可谓打入 Surface Phone 的绝佳时间。微软正拓展其市场,英特尔则有 PC 销售的高增长潜力。
Summary
Lots of rumors refer to an Intel powered Surface Phone, in 2016.
Microsoft is working on a Continuum feature compatible with x86 applications.
Latest rumor source, near Microsoft, states that the old project for Spring 2016 is canceled, while Panas took the new project for Fall 2016.
Intel will release the x3 LTE mid-end solutions and high-end Goldmont cores in mid 2016, in perfect time for the eventual Surface Phone.
Microsoft is widening its market while Intel has a high growth potential and the chance to get better PC sales.
Rumors about Microsoft Corporation (MSFT) working on a Surface Phone have been quite pressing lately. In July, there was a specific rumor stating that a Surface Phone was coming in Spring 2016. While the news was "great," the time frame looked quite strange due to a series of issues concerning Intel Corporation (INTC), the team working on it and so on.
Some days ago, the same source stated that things have quite changed, providing something that would be far more coherent to the actual Surface line and the future hardware availability. I would say that a Surface Phone will come for sure, but let's start step by step.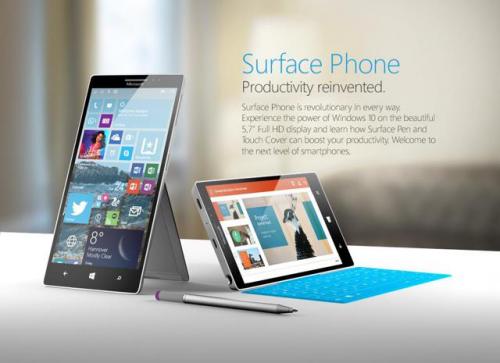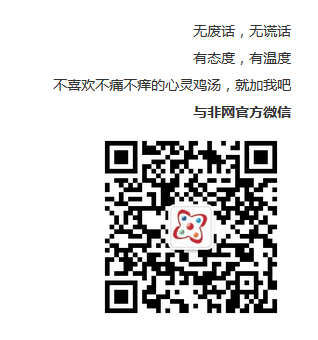 July rumor
In July, Daniel Rubino, from Windows Central, wrote that its source could affirm that the Redmond company was working on a Surface Phone to be released in May 2016. That rumor was quite fascinating, but it has various project issues:
the only partner suitable to power that phone is Intel, but new mid-market SoFIA solutions and high-end Goldmont cores will come only in mid 2016
Microsoft is expected to release its new Surface 5 Pro, Surface Book 2 and next flagship Lumias in Fall 2016, not before
Windows 10 Redstone is expected to be released in Summer 2016, not before
In fact, it came out that the project was an old one from the Nokia route and it had different projected time frames.
Design and project coherency
In October, Panos Panay said that "That's a question I get asked a lot," in response to an interview question about the Surface Phone. After that, he also said "Over time you want a consistent thread between the products, especially the hardware as well. I think what you have to think with overall devices is making sure we are able to get that consistent premium fit and finish that people are expecting from Microsoft." In Panay's opinion, that fit and finish involve "consistency across design" and "consistency across craftsmanship".
This is not a clear and loud statement that a Surface Phone will happen, but it is very likely that they are working on some kind of Surface-inspired Lumia or directly a Surface Phone version.
Another hint comes from an article where various new phone prototypes and Surface Minis have been discovered during a visit at Building-87.
x86 Continuum and Continuum-Continuity
A tweet about Kevin Gallo (VP, Windows Developer Platform) reports that Microsoft is working on implementing Win32 app compatibility in Continuum mode. Pay attention to "working on." Nothing is sure, but they are surveying if such a feature would be sensible (yes) and if it is technically feasible. We must remember that such a feature would require x86 hardware, implying the obvious Intel presence.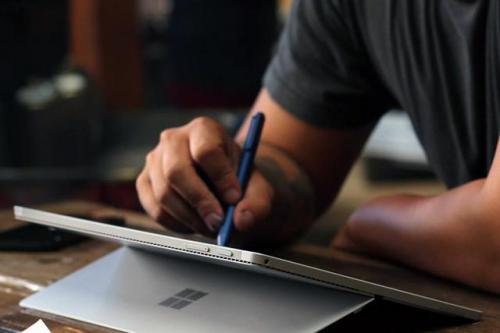 Surface 4 Pro
Additionally, with Windows 10 Redstone slated for next summer, Windows will implement Continuity-like features, where universal apps and Microsoft features will be synchronized in real-time between smartphones and PCs, making possible chats and phone calls directly between smartphones and PCs.
Core M tested in phablets
In a previous article, I have written about the chance to see a Surface Phone powered by a clocked down Core M or its derivatives. That idea was driven by Intel, which is testing Core M with phablets for unspecified objectives. It is clear that these kinds of tests are keen to the idea of providing the right hardware in order to power a smartphone-PC in the near future. Testing a Core M is probably a way to survey how much the 4.5 TDP is excessive for such a device, and if the Skylake architecture is suitable to drive a smartphone or if it needs some tweaks or heavy mods.
HTML5 leaked test
Some days ago, a leaked test was reported, showing a "Surface Phone" benchmarked with HTML5. It was outdated, with outdated specs and outdated Windows and Edge versions. Therefore, it could be both a false rumor or some kind of test product, maybe belonging to the previous Lumia route. In any case, it is probably another sign that something is in store from Microsoft.
Fall 2016 rumor
The last rumor is still reported by Daniel Rubino, from Windows Central. It came out that Microsoft decided to shut down the prior project from the Lumia route, in order to start a new project with Panos Panay, the creator of the new Surface line - a decision consistent with the design and craftsmanship coherency.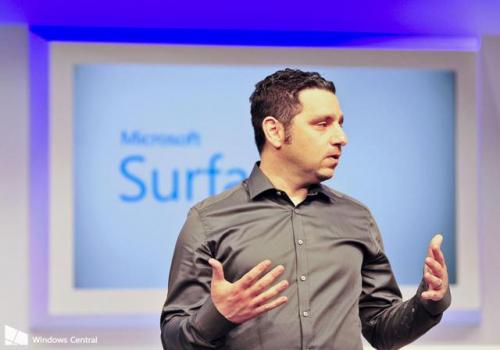 Panos Panay
It is also known that this project is developed jointly with Intel and it is likely to follow the "consistency across design" and "consistency across craftsmanship" in relation to the Surface line. This project is slated for Fall 2016, meeting the Redstone and new Atom release, not forgetting that Fall 2016 is the time window for the next Surface and high-end Lumia update.
The potential of a Surface Phone
Anyway, the most important topic is whether such a device would have a market. My personal opinion is yes, of course.
Even if we consider the x86 Continuum feature alone, it would add a feature, which is not achievable by competitors. Such a smartphone would reach a productivity level unrivaled once connected to an external monitor, by wireless or cables. For easy tasks and certain needs, it would be able to substitute PCs that are over rated for the majority of common usage, with the added value of having a pocket PC inside the trouser pocket. For other users, it would be simply an additional feature that would make it preferable to competitors' smartphones, without touching their own PC needs.
But, if we also consider the entire ecosystem, what Continuum is now and what it will be, what will come with the Redstone update and the chance to use traditional apps for not demanding tasks (which is the need of the majority of common users), we see that Microsoft is probably finding the right route to heavily enter the smartphone market, directly from the high-end, exploiting a specific and interesting function.
There is still the problem of app availability and quality, still far from the iOS or Android platform. Unfortunately, the fourth bridge, Project Astoria, got paused due to various management concerns; therefore, Android apps will not be supported to run on Windows 10 at least for a while.
There are still three bridges in order to raise the number and quality of Windows mobile apps:
Project Centennial, in order to convert Win32 and .NET apps to Universal Applications (potential of 16 million apps),
Project Islandwood, in order to port iOS apps to Windows. It needs more code effort compared to Project Astoria,
Project Westminster, in order to reduce a website into a web app.
These projects will surely push on the worst aspect of Windows Mobile, which is its app store. In any case, Windows 10 may be able to overcome the lack of sufficient traditional mobile apps through unique bridge apps that connect the mobile environment to the traditional desktop applications. The chance to use traditional desktop applications, with a mobile counterpart that exploits a full "continuum" between the mobile and desktop apps, could be something very disruptive, given the actual Windows installed base. At the moment, more than 150 million PCs run Windows 10 and, while the upgrading is slowing slightly, it is expected to see a spike during holiday sales and later.
The takeaway
Given first positive reviews about Lumia 950 and 950 XL, a Surface Phone and/or x86 Continuum would be a very good and interesting innovation in the mobile scenario.
Microsoft is likely to release the Surface Phone as a high-end premium device, with a metal magnesium chassis and the most powerful new Atom SoCs. I would not exclude the release of a mid-end smartphone, with a plastic chassis and a SoFIA x3 mid-end solution, in order to widen the market penetration.
The potential of such kind of a device is very high and it is likely to see tens of millions of devices sold in the first months, providing good revenues for Microsoft's mobile sector. If we account for an ASP of $650, production, testing and transporting cost about $225 per device and something around 10 million devices sold, we can see a gross profit around $4 billion and revenues around $6.5 billion. But, given the peculiarity of this device and its ability to partially substitute traditional PC or Tablets devices, an higher ASP could really be expected already from the first year.
We must not forget that Windows can be adopted by other OEMs, being Samsung (OTC:SSNLF), Motorola (NYSE:MSI), Lenovo (OTCPK:LNVGY), Huawei, LG, Asus (OTC:ASUUY) or others. Once Continuum will adopt x86 functionality and traditional desktop applications will be able to run on x86 smartphones, it is to be expected an OEM run to implement Windows on various smartphone solutions. This is the other part of Microsoft's strategy, keen to generate revenues from Windows related services. With a market of 1.5 billion smartphones shipped per year, this is a very big revenue source to attack and exploit.
I personally rate Microsoft and Intel with a buy rating. Microsoft is going to expand and grow its own business, modifying its business strategies and attacking emerging markets. If it will release a Surface Phone or x86 Continuum, things will get very interesting. For what concerns Intel, I have already explained my recent market and technology view (1-2), also in relation to a potential Surface Phone. Accounting also for network virtualization and cloud growth, Intel is poised to considerably grow in the next years. Additionally, there is a growing feeling that PC sales are going to get better:
late Skylake market entry,
strong demand for Skylake processors,
second Skylake FAB ramping in Ireland,
high gaming GPU card sales,
consistent OEM offer for 2-in-1 devices,
too high quantity of >4 years old PC/laptops,
Gartner analysis states that PC sales will get better starting from 4Q 2015,
Indian and US laptop sales are already positive from 2Q,
Gartner talks about stability for 2H 2016 and growth for the following years, driven by PC updates.
These driving factors are more than a mere sign that things are going to get better, and it is clear that Intel's actual stock price is "hold" only by PC sales concern. Eventual up-revisions or IDC/Gartner positive updates would trigger a stock price spike.